Information for cable operators.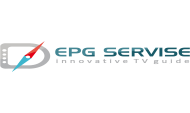 We recommend that you pay attention to the guide system
http://epgservice.ru/en/?lang_ui=en
EPG Service
is much more than a TV program.
EPG Service
is an expanded set of metadata, such as a unique event ID, title, series,
announcements, category, genre, year, actors, ratings, trailers, photos and biographies
and much more, for the most interest of viewers and building a system of high-precision
recommendations. Extended EPG is a tool for managing loyalty and outflow of the audience,
for additional monetization and growth of ARPU.
EPG Service
works with
DVCrypt
system.
Demo Link